Pieter's Original Quest
for an NS Layout
On this page you find a chronicle of the plan development of my NS quest.
If you had expected photographs of my layout, sorry, it hasn't even been fully designed as yet, let alone built. I'm getting closer though, just take a look at the last drawing at the bottom of the page, I think I have the final lay-out pretty much down now. But, courtesy of my uncle Lou in Maassluis, I now at least (and at last) have a small selection of engines and rolling stock.This includes a very nice running Lima version of a E-loc 1220, a Lima Bo-Bo version (how prototypical can that be) in blue of a 1300 without pantographs, a Jouef Co-Co version in yellow/grey of a 1300 and a Fleischmann 4100 steam engine. Along with those is a smattering of open and closed freight cars of the DB, NS, SNCB, FS and SNCF from Lima, Roco and Piko. All of this is older stock and I can only imagine the "fun" I'm going to have trying to make them all run on code 83 track once I get my lay-out actually built. The cars will be an easy conversion, though I'll have a challenge trying to convert them all to a standard close-coupling format. The engines will be a different story: I'll have to get the wheels turned down by someone with machining expertise. A while ago I put an oval track together from the Bachman track that came with my mother's (former) Xmas set and while it was fun initially to see them run, there was just no challenge to it, so down it came.
I have been working on the layout design off and on since about mid March'97, using Sillub's XtrkCad software and I think I'm getting close to the final design. I contributed the Roco code 83 tracks and turnouts for this program, as I will most likely be using Roco turnouts and track on my lay-out (whenever that may be). I figure I'm doing great if I can start on it by year's end (2000 that is) and as soon as construction has started I will post some pictures (well, that "deadline" has come and gone). A progression of preliminary lay-out plans is shown in this page. As you can see from the drawings, it is a rather small room I'm forced to work in (a spare bedroom) and because the prototype of this line is all in the flat western part of Holland, I cannot use the ubiquitous mountains to hide tracks and enlarge the effective length of the track lay-out; the most I can get away with is the use of a shadow station. The initial thought was to put the shadow station under an elevated track that leads up to the end station on the Rotterdam side: Hofplein. The prototype for this station was elevated with the tracks leading up to it on an arcade with shops in it and modelling this will give an interesting visual aspect to the far corner of the lay-out. I've given up on the Hofplein station though, as you'll see in the drawings below.
During my most recent (June/97) short trip to Holland, uncle Lou, his son John and I were sitting in my cousin John's backyard looking at the print-outs I'd brought along of my lay-out experimentation. John made a suggestion with respect to the location of the Pijnacker station and yard, which I initially somewhat poo-pooed. Once back home, I started to play around with the lay-out design again and it occurred to me that modeling a given prototypical line is fraught with compromises anyway, so what the heck, why not see how that could be worked in. It meant that the platforms wouldn't be as long as they should be, but it would allow for a longer running distance between Hofplein station and Pijnacker station. And that's where things stood for a short while but, like these pages, I'm always tinkering with them. Below is a very condensed history of how things progressed.
I received a book in July/97 from Holland that deals with the history of the Hofpleinlijn, ZHESM (thanks Don). In it are detailed plans of the various yards on the line, as well as drawings (including dimensions) of the various stations and buildings, all of which is invaluable to my goal of modeling at least part of this line. The first visible result will be another revised plan of the lay-out, the yard has to change, it'll become larger with more spurs.
I thought it appropriate to first show a scan of the Pijnacker yard from the book by J.F.Smit: "Rotterdam Hofplein-Den Haag- Scheveningen Kurhaus". If you click on the picture you'll get a larger one wich will show more detail. But be forewarned: it's almost 139K in size so it'll take some time to download if you still use a dial-up connection.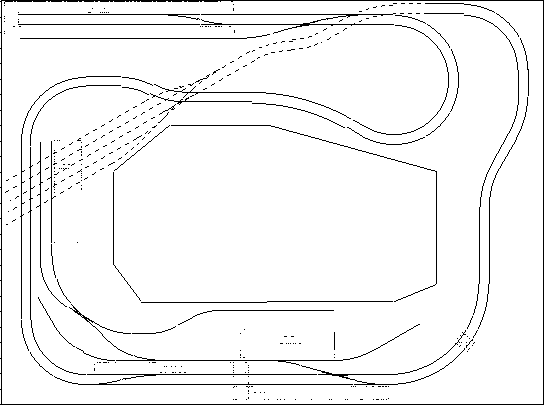 While this is not the first plan, it provides a good jumping off point. This plan now has a re-worked entrance into the shadow station, but I don't like the sharp radius of the curve into Hofplein station, this needs addressing. At this stage of the design process I was going by memory in terms of the yard lay-out.
Rather than go through pictures of all of the intermediate plans, let me just say that I did several versions with a relocated Pijnacker yard (along the narrow side) and a complete loop for a more satisfactory freight operation, still with 2 stations on the lay-out: Hofplein and Pijnacker. All this was prompted by the discussions I had with cousin John in early June of '97. But I still couldn't get used to the idea of the 2 stations being so close together and the Pijnacker yard was getting really rather small. And I needed a bigger yard with more spurs as it turns out, after reading the ZHESM book.
The more I thought about the proximity issue of the 2 stations, the more inclined I was to make just one station visible: Pijnacker. This allows for a larger yard at the station and will give a slightly more rural character to the overall lay-out. It probably means a multi-tracked shadow station, which hides underneath the visible one. Those ideas have now been incorporated in the 2 drawings below. While Hofplein station with its arcade, elevated track and platforms of the 60's/70's would have been visually very interesting to model, I just couldn't come to grips with the idea of Hofplein station and the surrounding city being so close to the Pijnacker surroundings on the lay-out, and I guess that was one of those modelling compromises I was NOT prepared to make.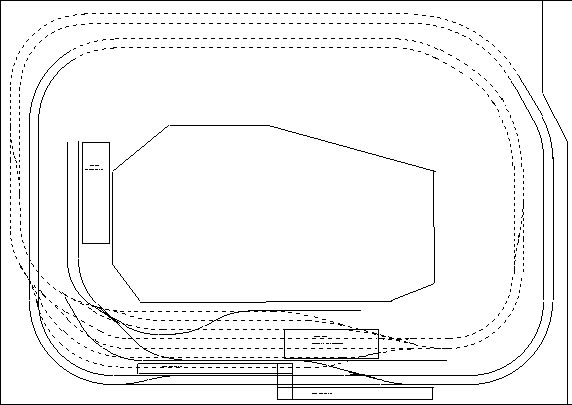 This is the Aug/97 version of the trackplan. And I think I'm getting closer to the final design. There's only one visible station: Pijnacker. The traffic through Pijnacker goes via the shadow station, which has enough tracks to hold multiple trains in both directions. The track will disappear behind a fairly high dike.
The first major revision of the yard plan after I had received the book on the ZHESM, required some careful consideration of how to transform a yard that is based on straight tracks and spurs into one that has to be accomodated on a space the size of which doesn't allow for anything but a yard with curves. This first one didn't really pass muster, the switchbacks weren't correct, so back to the drawing board it was. Compare this last one below with the first drawing and you'll see how poor my recollection of the yard was, after not having seen it for over 30 years. I also had to relocate some of the switches in and out of the Pijnacker yard and in and out of the shadow station.
More changes will happen, but the basic layout is finally taking shape. The yard will undergo some slight re-shaping, and now that I have some drawings and dimensions for some of the buildings, they will get placed properly.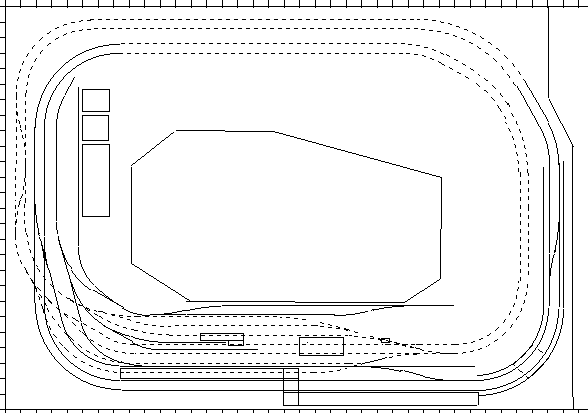 On these drawings little has been indicated as yet in terms of structures, roads and landscape, but that is changing. This part of Holland is flat, with lots of ditches, dikes, locks, bridges and drainage canals, pastures, community gardens (volkstuinen), vegetable farms and "kassen" (hothouses). So, water will figure into the landscape a fair bit, particularly around Pijnacker station. . Near the top half of the picture, where both tracks disappear, there will be an elevated area with a drainage canal with two locks leading to drainage canals running alongside the tracks. The locks will be a convenient structure to hide where the tracks disappear. They are common as part of the drainage control for the area. There are several in the area, although none are in reality close to the railroad, but what the heck, it's the best I can do without having to resort to the use of mountains. I'll have to come up with a couple of reasonably high buildings and/or tall trees that can camouflage the point where the track disappears behind the dike. "Creative licence" is how I can justify all these things.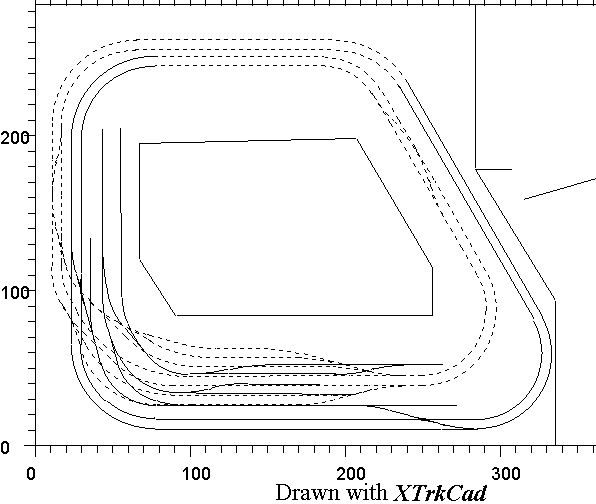 The careful observer will notice a fairly big change between the above layout and the one preceding it. The dimensions of the room have changed because there has been a change in venue, from upstairs to downstairs. And that required a rework of most everything. On top of that, this is the first layout done with the newest version of XtrkCad, version 2.0.4. And it's substantially better, easier and faster to use software.
As plans crystallize further, more up-to-date lay-out plans will be posted. I welcome on how to improve things, particularly from those with NS modeling experience/interest and perhaps even the odd person living or working in Pijnacker or anywhere-else along the Hofpleinlijn that may chance upon this site and would like to add his/her two cents worth. I am especially interested in input on what material was used on the line for freight traffic. I remember there being a resident "Sik" for yard switching (and I'd like to know what it's number was and whether or not it was ever repainted into the new house style), but I cannot recall what engine was used to haul the freight cars to Rotterdam. Keeping in mind that freight operations from Pijnacker ceased in 1970, I guess I'll have to stick to that era of the late sixties if I want to keep things relatively prototypical. That means that passenger traffic was being handled by Mat'54, the occasional Mat'46 and plan V was just being pressed into service, with a Mat'24 Blokkendoos for nostalgic diversity. Sprinters hadn't even been thought of as yet, they came much later. I would also be interested in knowing what material was being repaired and serviced in Leidschendam during the late 60's. This will allow me to run the occasional 1100, 1200, 1300 or ???
This page is getting just a little full and I suspect I'll end up having to break it down into two parts with the next update, which is coming soon. I have started to redo the layout so that I can start out with three or four 2x4ft modules which can later be incorporated into the permanent installation. The first drawings will be up soon.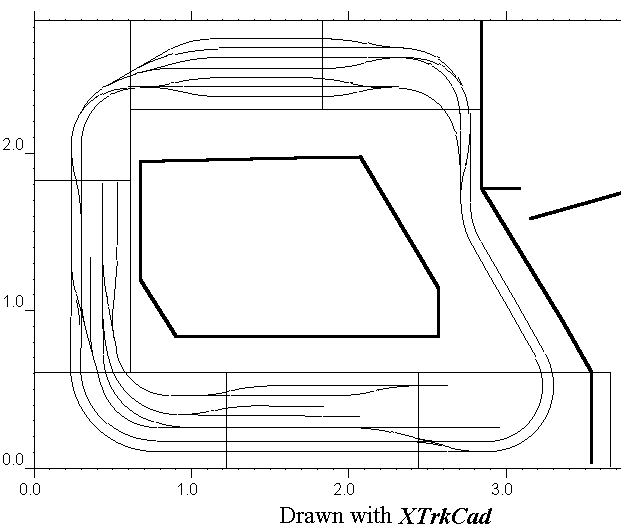 And this is the first of these revisions. The shadow station has been eliminated, primarily because of concerns over clearances between layers and the use of caternary. I tried to find a way to incorporate a fiddle yard, complete with sliding tray of tracks, but it would have been just too much of a fiddle with the overhead. So it became a fixed track lay-out, which will end up having to be camouflaged, probably with tall trees etc.

Reality is finally being acknowledged: it'll be a while before I have that room available for my lay-out. So, just for the heck of it, I started to play around with some ideas of how I could scale my plans to a 4x8. That's how I ended up focusing on a more modest size.
Web Pages Created by Pieter Klapwijk.
© Pieter Klapwijk 2000 ALL RIGHTS RESERVED.
Do not duplicate without permission.





Page last updated March 25th, 2003